Imagine a whole dining experience where you have diverse access to rustic Mediterranean and traditional food such as halloumi, Kleftiko, Souvlaki, Sheftalia, Koupepia Makaronia Tou Fournou (oven-baked pasta)…. Stop visualizing; that's what Cypriot Cuisines look like. With a blend of Greek, Turkish, and Italian cooking styles, foods in Cyprus will tantalize your taste buds and get those digestive juices flowing.
Likewise, Cyprus incorporates the cooking style of some Middle Eastern countries, including Armenia, and Lebanon, to create a diverse combination of flavors that are now considered to be 'typically Cypriot.'
Even though some cuisines may look similar to those from other countries, they all have a Cypriot twist. Here is a concise option of foods to enjoy on this island.
Meat
Meat is a predominant factor in Cypriot cooking, and vegetarians will find that it seems to dominate most menus. Some staple meats you can enjoy include souvlaki, stifado, and many others.
Souvlaki
If you enjoy eating pork or chicken, you'll definitely find Souvlaki tasty. Literally, the meal is chunks of meat threaded onto a spit and slowly cooked over hot coals. You can enjoy it in pita bread with salad, yogurt spread ('tzatziki'), and fried potatoes. If you love pork meats, you can also have pork souvlaki, which is just as yummy.
Stifado
For beef lovers, stifado is meat to try out. It has this very soft texture that you barely have to pierce or chew it. Likewise, it's all prepared in a good gravy with oven-baked shallots.
Meze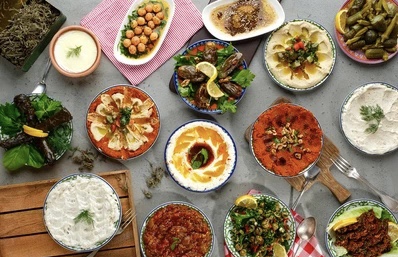 Unlike the traditional three-course meal prevalent in several places, Cyprus dining features the idea of Mediterranean communal dining where lots of dishes are shared among loved ones. The concept is called Meze. Ultimately, Meze involves supplying diners with a seemingly endless dish of small plates with different meats or fish, vegetables, bread, and dips like tahini, tzatziki and hummus.
Meze meal consists of a wide variety of the Cypriot cuisine, thus an excellent way to sample several dishes, including the native pot dishes such as stews and casseroles.
Veggies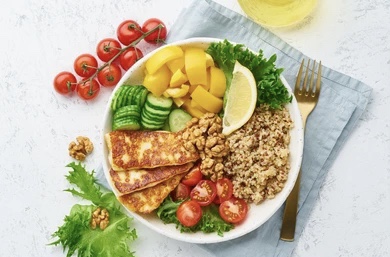 Foods in Cyprus also appeals to vegetarians with its island's crops of fresh fruit and vegetables, pulses, and grains. The veggies are bountiful and have that fascinating local freshness. Also, salads are another Cypriot cooking style that provide diverse options for everyone. You have access to tomatoes, aubergines, and avocados to add to the basis of your dishes.
Additionally, olives are another veggie that is usually included, as are vine leaves stuffed with rice and meat and the famous Souvlaki.
The fruits of the sea – fresh from the Mediterranean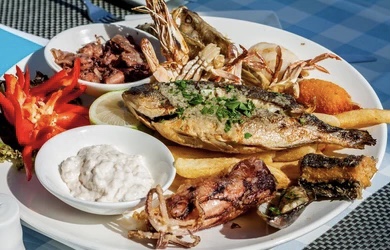 Cyprus has a smooth supply chain of fresh fish and seafood on the island; hence Cypriot fish dishes are delicious and of good quality.
While there are many fresh fishes available on the island, one of the staple ones is calamari and red mullet. A favorite way to enjoy the fresh flavors of this meal (fish and seafood) is to grill it.
Closing thoughts
Generally, foods in Cyprus are tasty and filling without being fussy or fiddled with. If you are new to Cyprus, you might find some of the names really hard to pronounce. However, do not fall into that trick of avoiding the dishes as they entail one of the most fantastic cuisines that you will find anywhere in the world. Follow this link to learn more about Cyprus.