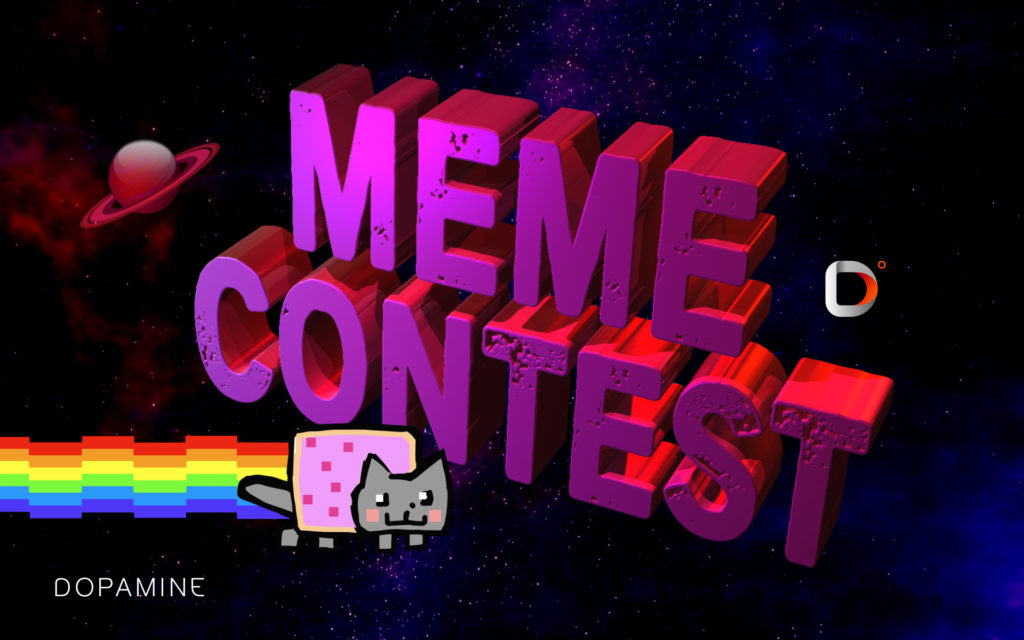 Create a Meme, and win 2 prizes in Dopamine App Meme Contest!
Meme culture brings us not only good humor and amusement but also addresses some of the values and pains of our society, which makes memes excellent satirical tools. Another great thing about memes is that anyone can become a meme creator.
How cool would it be to see your meme become a success, or even go viral on the net?
At Dopamine App, we have decided to help some of you experience this type of fame: all you have to do is create an original, unique meme that is funny and makes a comment on anything crypto or blockchain-related.
Get your imagination flowing, be creative, and show your talent to become one of the winners of our contest!
As a WINNER, you will get 2 fantastic PRIZES:
1) Your meme will be minted as an NFT with your name on it (Twitter handle or real name as you wish)!
2) You will receive 112 million $SHIBA and 10.6 million $ELON.
So are you ready to see your meme go viral in the Dopamine community and wider? Then learn about the details of the contest below.
What is Dopamine App Meme Contest?
The idea is simple: create a unique, funny crypto meme which can be an image, a GIF, or a short video. The winner memes will be minted as NFTs in Dopamine App.
How can you take part?
Participating in our contest is easy, just take a photo or create a short video (not longer than 20 seconds) or use a meme template, and add some funny text to it. You should also make sure you choose a relevant topic related to crypto or blockchain.
Once your meme is ready, do the following:
Rules and Guidelines of the Dopamine App Meme Contest
Use high-quality visuals. Low-quality entries might be refused.
One user can submit only one meme.
Don't use copyrighted images, music, or other material.
Don't be offensive.
Reposting other users' memes as contest entries will disqualify your work.
Deadlines and timeline
The contest is open between 5 and 15 April 2022 (10 AM UTC). At the end of the contest, we will select the 5 best memes. After that, the winner memes will be converted into and distributed as NFT. The creators of the winning memes will receive 112 million $SHIBA and 10.6 million $ELON in their wallets on Dopamine App. We will inform contestants about the results of the Meme Contest via our Twitter account.
Terms and Conditions
By entering Dopamine App Meme Contest, you agree that:
Your creation may be minted as an NFT by Dopamine App.
Dopamine App may share your creation online and in other formats.
The judges' decision is final.
Entries received after the submission deadline will not be accepted.
Dopamine App will notify contestants about the date & time of prize distribution at their convenience.
Ready to become a superstar meme creator? Then get your creative juices flowing and send us your best original crypto meme by 15 April 2022. Good luck!
If you need some inspiration, read our article Crypto meets Meme Culture: get inspired for the Dopamine App Meme Contest
You can also check out the latest Dopamine App review.