Being a great fan of DeFi products, I have always wanted an app or something to keep me updated, at the same time, help me invest. So, a few days ago, I stumbled upon something called Dopamine App.
As with many other crypto apps I have downloaded, when I first found Dopamine, I was skeptical, to say the least. "Earn interest by Staking and Farming directly from the App?" Could it be? What's the catch? I was surprised to find there was none. All a user has to do is register by creating an account and activate their investment journey by funding their wallet.
Upon downloading the App, the whole process seemed smooth as all I needed to do was secure my account by setting a password, saving the 12-word seed phrase, and starting kicking it.
Particularly, Dopamine App enticed me to sign up because of the fact that the application is free and it comes with a lot of essential features a crypto app should have.
Is Dopamine App worth downloading?
Not bluffing, but it's been a while since I've been happy about potentially earning passive crypto online.
The crypto market is littered with so many scam projects, and many companies are looking to drain you in so they can gather hasty profit while you make zero money. Dopamine doesn't seem to be that company.
Upon signing up for the application, you're faced with the "My funds" section that allows you to use wallets, send and receive crypto, do swaps, and provide liquidity.
The coin page is ordered by Mcap by default like on CoinMarketCap or CoinGecko. So BTC tops the list of the cryptocurrencies on the page.
I ended up sending myself some BTC by clicking on the Receive option, copying my address, and sending BTC to the wallet.
Within minutes my wallet was funded. My fund section is well-organized, giving the user a choice between funding wallets, swapping, transferring assets between cross-chain and Earn. You can also view details like currency pairs, price charts, and sentiment indicators.
My first trade was a blind one to get used to the App. While playing with the App, I noticed some interesting features.
Three 3 core features of Dopamine App
As a crypto app, Dopamine App gives users complete access and flexibility.
You can download the Dopamine App for free on the App Store and on the Play Store, and it allows you to view market prices, utilize technical charts and data, earn from liquidity pools, and a lot more. Here are three core features of the app.
Dopamine App, the ultimate news source
The quick view section below the Dashboard allows you to get useful market information in seconds. It entails the Google browser, YouTube, Tradingview resource, coin converter, and a lot more.
The My Collection option allows you to add several resources to your Dashboard. You can create your own personal Collections or add some premade Dopamine Collections.
While surfing through, it consistently loads news headlines, unlike some regular iOS apps that only show limited headlines.
When sourcing for news, you can filter the news for a specific coin. When a headline is clicked, the news article is shown in Dopamine App itself instead of opening in Safari.
This is good in keeping you in the App instead of switching between Dopamine and Safari, especially if you are in a trade or about to make one.
A simple & efficient interface 
The Dopamine iOS interface is very basic and bare-bones. With the first-time direction guides, you can get a fun-filled, lively experience while navigating across different sections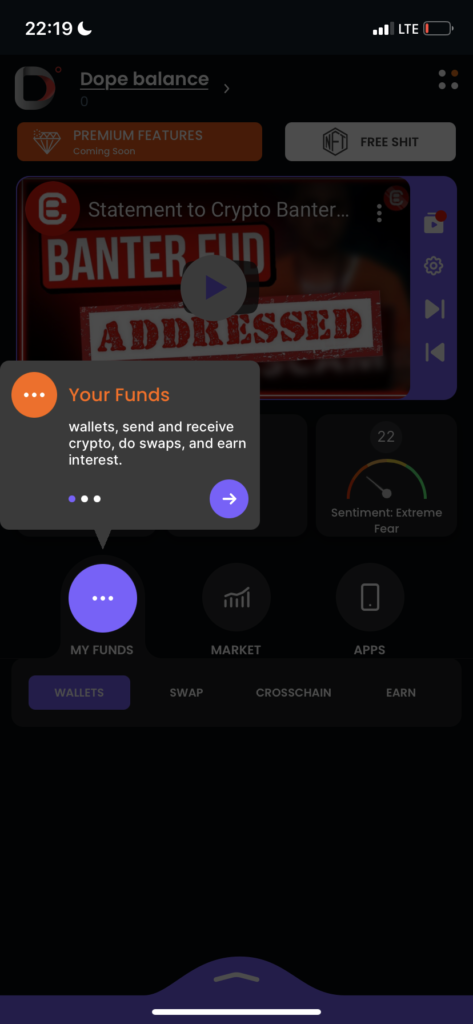 While I was navigating, I got to the stage where some data had to load from the server, and I had nothing to do. The app makes sure there's stuff moving in the background. This is a smooth feature that keeps the whole process ongoing.
Among other things I found fascinating is the educational content the market section has. The Dopamine App offers to all new users updates news from several crypto news platforms (NewsBTC, Coingape, Blockchain news, etc.) that allows users to stay updated on what is going on in the crypto space.
Earn passive income on Dopamine App
One of the best features I admire on the Dopamine platform is the Earn feature. Although it is less functional now, when it's fully effective, the feature allows users to farm with their liquidity pools into the App.
Doing light finger gymnastics, you can earn with the BSC network, Fantom network, Ethereum network, Huobi network, and a lot more.
Asides from the earn option, the cross-chain option allows you to swap Ethereum tokens for tokens from other networks.
Also, the App allows you to swap different DeFi tokens or stablecoins for other tokens. This is excellent for new users who can avoid the stress of opening up different apps to perform their transactions.
Bottomline on Dopamine App's review
Needless to say, regardless of your experience in crypto, Dopamine App was created with simplicity in mind to fit all types of users.
The most fascinating part is that Dopamine App is free. At the end of the day, Dopamine App can be a great way to make money; you could earn extra coins with this application.
Now, would I replace my other App with this application? Definitely yes. I would also use the Dopamine App to supplement my income by staking and referring family and friends to the application for more free coins.