Due to the country's background in the Balkans, Albanian cuisine, like those of its neighbors, features a strong Turkish influence. The varieties of food reflect the distinct traditional foods from South European countries where staple foods such as fish (especially cod), red meat and pork products, dairy, vegetables and potatoes (often eaten as vegetable soup) are prevalent. The dishes also reflect Greek and Italian influences.
Dinner is the major meal for most Albanians, and it connects both friends, family members and loved ones to catch up while enjoying a nice meal. So let's explore some Albanian staple foods that appeal to both vegetarians and meat lovers.
Meats
Various types of meat including veal, lamb, beef, lamb, and pork, are popular meats you'll find in Albania. Many delicacies, such as frog legs, Pollo Alla Cotoletta, Qofte te ferguara etc., are prepared from these meats.
Another staple meat in Albania is Qengjin ne Hell – Roasted Lamb. It is a very desirable meat; and many Albanians pride themselves on the succulence of their lamb dishes. You can typically eat this as a basic meal or enjoy it with potatoes and vegetables.
Veggies
Albanian cuisine features different varieties of vegetables and salads. Depending on the season, you can easily find tomatoes, salad leaves, mushrooms, beetroots, cucumbers, cabbages, turnips, and onions.
Lemons, watermelons, cherries, and oranges are the main features when it comes to fruits: although you will see apples, grapes, peaches, blackberries, apricots and cantaloupes as well.
Additionally, as you explore Albanian veggies, you'll come across decent portions of garlic and onions, with a tart touch from either lemon juice or lemon grating, finished off with a handful of green herbs like dill and parsley, or cinnamon and cloves. An average Albanian can easily access these.
Tavë Kosi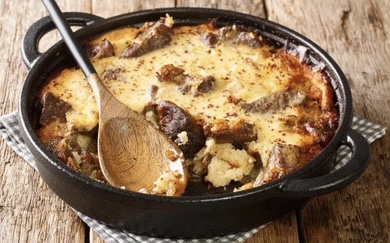 Tavë Kosi tops the list of Albania's most famous dishes. Basically, it consists of baked lamb and rice served in a delicious baked yogurt. While it's simple to cook, TavëKosi is flavorful and is the go-to comfort food for many Albanians.
Fërgesë
While roaming the streets of Albania, you will find quite hearty traditional foods like fergese, which consists of vegetables. This meal combines peeled tomatoes, red and green peppers, cottage cheese, carrots, onions, and other spices to produce baked, thick vegetables. You can enjoy it as a side meal with meat or a vegetarian meal.
Baklava
If you are fond of pastries, you are in the right place. Baklava is a sweet gourmet made of thin layers of dough filled with butter then topped with nuts. The butter prevents sticking during the baking process.
This meal was previously used to celebrate New Year's eve and still used on celebrating occasions.
Byrek
Also referred to as borek, burek, bourekas, or lakror, this meal is famous in the Balkan region and one of the staple foods in Albania.
Since it's widely known among the Balkan countries, it features different tasty fillings.
Byrek is obtained from meat or vegetables (mostly spinach and ricotta). The most popular method is using thin filo pastries to get baked or fried stuffed pastries. While this is probably the most healthy recipe, cheese and eggs with meat and sweet pumpkin are other options.
Ultimately, byrek has been a unique meal, it's pretty much used as a fast food because you can find it easily and is even cheaper than other fast foods. Traditionally, it can be enjoyed with "dhalle," a yogurt.
Wrapping Up
Foods in Albania retain its familiarity with diverse people despite having different flavors. Visitors can enjoy a mixture of Turkish, Greek and Italian flavors.
Asides from the stated meals, other popular parts of Albanian cuisine, including Perime në Zgarë (Grilled Vegetables), Kaçkavall (Fried Cheese), Tave Mishi (Grilled Meat), Shapkat, Flija, Qofte te ferguara and more, allure the locals as well as the visitors. You can learn more about Albania here.